Dealers Only Auction
Vehicle Marketplace Events are LIVE 24/7 –

Auction Dates
Thursday, Oct 5th @ 10:00
Thursday, Oct 12th @ 10:00
Thursday, Oct 19th @ 10:00 REPO SALE
Thursday, Oct 26th @ 10:00

SimCasts
™

is Here! How It Works

Contact the office today to create
an account to Bid Online and use
our Dealer Mobile App!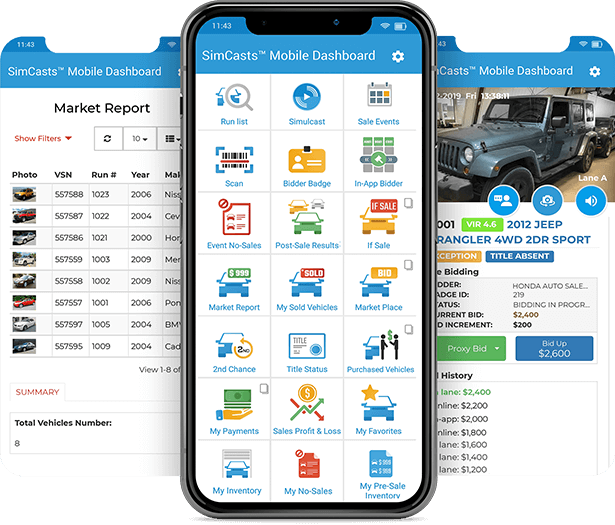 IF-Sale Counter Offer
Negotiate directly, independently and in real-time
SMS messaging directly to your mobile device with Accept, Reject and Counter options.

Finalize a buy / sell response in under 3 hours or less.

Avoid miscommunication and errors during the negotiations by seeing the vehicle details as buyer or seller.

Automated counter offers conclude the If-Sale closure in hours rather than days.

Vehicles automatically added to your buy / sell list visible from within your mobile application.
Dealer Fees
View or Download Fees
Auction Policies
Please note the following terms and conditions
Dealer's Auction: Only authorized representatives of licensed dealers whose applications have been approved are allowed to participate in the Auction.
Arbitration Policies
Consistency in enforcement of these policies, an Institutional Seller may have a set of national arbitration rules/policies that supersede those of the Auction. In this instance, the Seller's rules will be posted on Auction premises.
About Us
East Idaho Auto Auction (EIAA) opened its doors on a brisk day in February of 2005. Since that time, the auction has been known for its great deals with a home town attitude. The auction serves all of Idaho, Western Montana, Wyoming, and Northern Utah.
Doug Saxton, along with his sales staff bring over 60 years of Auction Experience to East Idaho Auto Auction. The company employs approximately 45 part-time and full-time employees staffing Sales, Driver Services, Operations, Remarketing and Administrative departments. Read More...